Reducing the signs of ageing…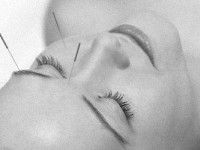 Cosmetic Acupuncture is an effective, non-surgical treatment to reduce the signs of ageing. It involves the insertion of very thin disposable needles into the acupuncture points on the face. This superficial insertion will increase the local circulation to the face and stimulate collagen production, which will fill out the lines and give firmness to the skin for a healthy, glowing complexion.
Cosmetic Acupuncture may erase as many as five to fifteen years from the face, with results apparent after just a few treatments. 
Results can include:
Reduction of fine lines and deeper wrinkles

Improvement of under eye bags

Firming of jowls

Elimination of puffiness and bloating.